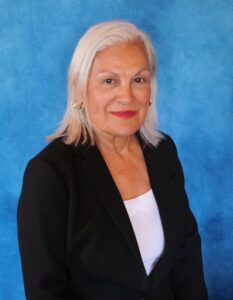 GRACE FLORES-HUGHES is a native Texan. She is an award-winning author of her memoir, A Tale of Survival and has over 40 years of public service both as civil servant and political appointee. Her expertise in strategic management and program structure includes crisis management, conflict resolution and mediation, and arbitration procedures. Her work experience has included but not limited to public policies in the areas of humanitarian crisis, civil rights, and small business. She also served as Senior Advisor to an international corporation that is provider of professional services and solutions to both the private and public sectors.
She is a guest contributor to Latino Magazine and has written several other magazine articles related to the term Hispanic and social policy issues.
Ms. Flores-Hughes has served in various state and federal appointed boards including the Virginia Board of Professional and Occupational Regulation, the Board of Agriculture and Consumer Services, the Diversity Advisory Committee for the Virginia National Guard and most recently the Virginia Board of Humanities. She also served on the 1st Board of Visitors, Department of Defense Equal Opportunity Management Institute.
She is included in the Hispanic American Profiles, Ballantine Books and in Notable Hispanic American Women, Gale Research. She serves on several nonprofit boards such as the Harvard Journal of Hispanic Policy, the Media Policy Center, the Hispanic 100 and the Hispanic Foundation for the Arts founded by actors Jimmy Smits and Esai Morales.
Ms. Flores-Hughes has been recognized for her many years of public and private sector service. She was named one of the most influential Hispanics in the U.S., was the recipient of an Outstanding Public Service Award, named Person of the Year by Virginia's 11th Congressional District and named CNN Hero.
Mrs. Flores-Hughes holds a Master of Arts Degree in Public Administration from Harvard's Kennedy School and a B.A. in Child Psychology from the University of the District of Columbia.
She resides in Virginia.